Enjoying "No Man's Sky" on the Go, on the Mac
On June 1st, Hello Games released the Mac version of No Man's Sky through Steam, which was first announced at Apple's World Wide Developer Conference last year. And, this is a release I had been quite eagerly awaiting.
For most of the past (nearly) seven years, I've been playing No Man's Sky on the gaming PC which I built for that very purpose. I started out on PS4 and after two or three weeks I wanted to maximize the experience — 60+ FPS, higher resolution, mods — and built a high-end Windows PC to play it on. That PC, which has recently seen a notable parts upgrade, is still my main cockpit, but I do everything else on the Mac.
As soon as Steve Jobs returned to Apple in the late '90s and it was announced that his NeXTSTEP operating system (along with its UNIX underpinnings) would become the foundation of a forthcoming, new Mac OS, I jumped to the Mac and haven't looked back.
As a full-stack web developer, I do most of my work (which is now nearly 100% remote) at home on my desktop Mac Studio (M1 Max), with an employer-issued MacBook Pro (M1 Pro) occasionally coming into the mix. For personal use around the house and on travel, I have a MacBook Air (M2).
I was using an M1-based MacBook Air when the forthcoming Mac version of No Man's Sky was announced by Apple at WWDC 2022. Hearing this good news, I upgraded to the new M2-based Air and spec'ed it up in order to play NMS as well as it could, on the go. This was the Mac I would be exploring the universe on.
The 13-inch MacBook Air in question has an Apple M2 SoC running at 3.49GHz and featuring 8 CPU cores (4 performance, 4 efficiency), 10 GPU cores, 24GB of LPDDR5-6400 shared RAM, and 1TB of SSD storage (which on these Macs is about twice as fast as a PC NVMe unit).
When the Mac version appeared on Steam, I installed it (for free, having already purchased the Windows version), fired it up, and was very impressed by just how well it ran.
On the 13-inch MacBook Air, I am playing at the default resolution of 1470×956 and after tweaking around a little bit on the settings — most remaining at Ultra, including the hugely impactful Planet Quality setting — I am seeing framerates usually pinned at 60fps. Apple's Metal 3 3D API and its new MetalFX upscaling framework (something like a cross between AMD's FSR and Nvidia's DLSS) helps with this; I'm using it on the Quality setting and am using Metal's highest quality temporal anti-aliasing mode. The MacBook Air's display runs at 60Hz max, so it's hard to say how high above 60fps the game could be rendering on this M2. There are occasional dips into the mid 40s, mainly around complex bases. The overall visual quality is superb.
The quick-and-dirty chart, below, shows the performance of the M2 MacBook Air described here as compared to various systems I've used of late, including the aforementioned gaming PC in its original and upgraded configuration, by way of Geekbench 5 CPU and GPU compute benchmarks.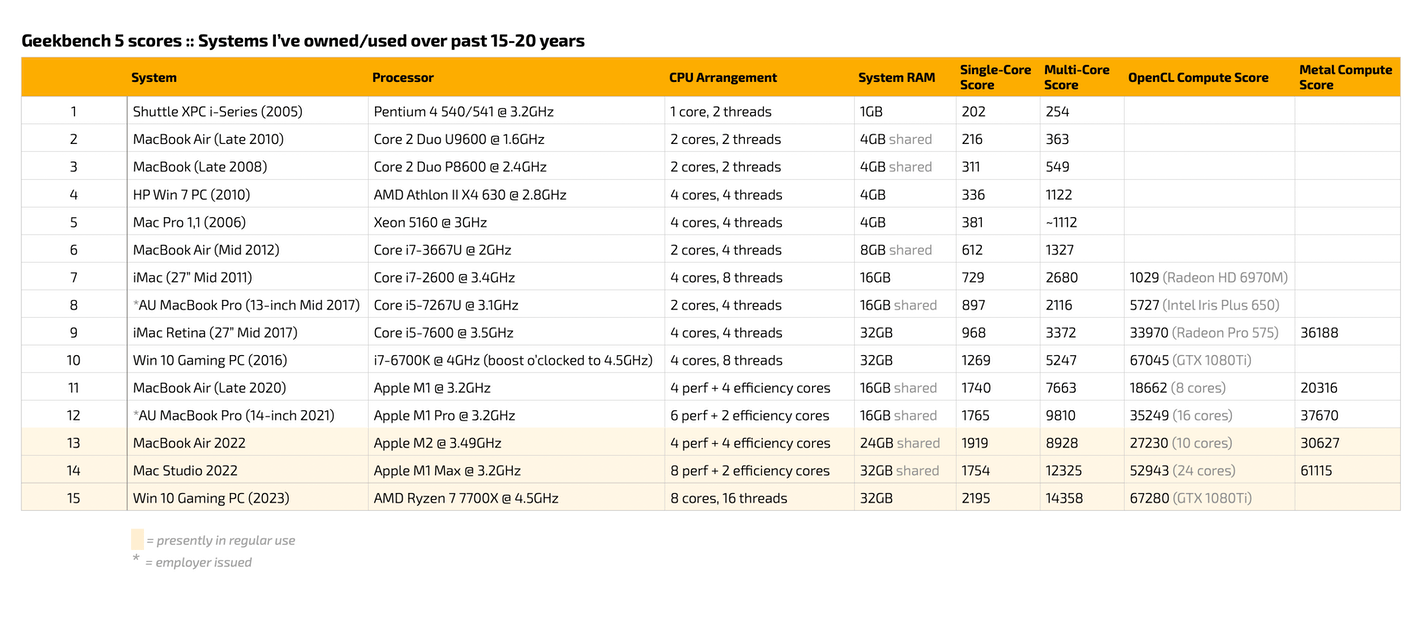 I still do most of my NMS exploring on the more powerful gaming PC with its large, 144Hz display, but it's great to be able to have a full, no compromise excursion into the No Man's Sky universe whenever I want, wherever I want. And with cross-save support between the Windows and macOS versions via the Steam Cloud, I can pick up right where I left off. In fact, I completed the last milestones of Expedition 10 Singularity at 25,000 feet on my flight from Boston back to DC this past weekend. Good times!