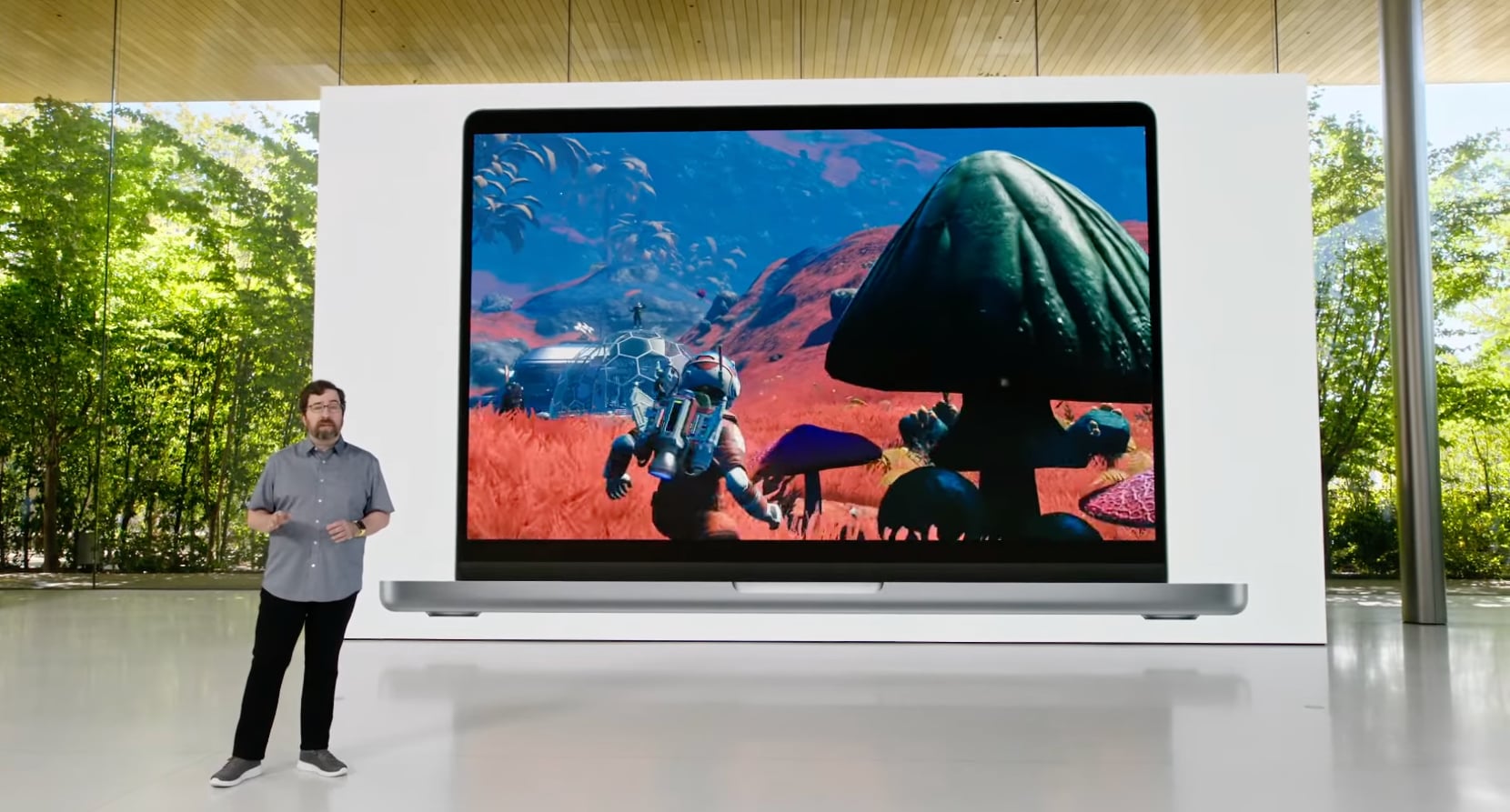 WWDC Surprise: "No Man's Sky" Is Coming to the Mac and iPad
WWDC Surprise: "No Man's Sky" Is Coming to the Mac and iPad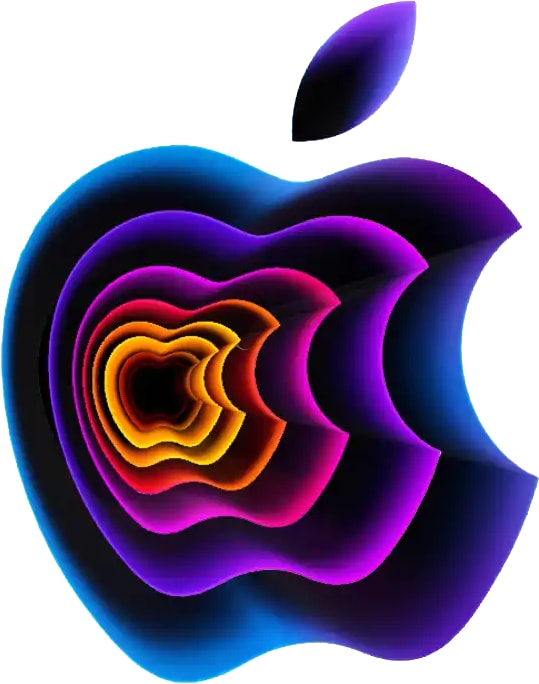 Today, Apple live-streamed the keynote that kicked off its annual World Wide Developers Conference. Occurring every spring, WWDC serves as an opportunity for Apple to announce product updates to consumers, show off new software and OS features that are on the way, and put its latest development tools in the hands of the dev community.
During today's keynote, Apple announced the new M2 processor, successor to the extremely performant / low power Apple M1 that kicked off the Mac's transition from Intel-based processors to Apple Silicon. Apple showcased the M2's performance in the first machines that will be receiving the chip, the MacBook Air and MacBook Pro laptops. The coming, yearly update to the Mac's operating system, called macOS Ventura, was also demonstrated. As is always the case, the new OS brings with it a variety of new technologies that were detailed during the keynote. One of those technologies is Metal 3.
Metal is a low-level, low-overhead hardware-accelerated 3D graphic and compute shader API created by Apple. It debuted in iOS 8 during WWDC 2014 and combines functions similar to OpenGL and OpenCL in a single API. Apple moved away from OpenGL as its core 3D API and created Metal in order to improve performance by allowing low-level access to the system GPU. It is comparable to other APIs such as Vulcan and DirectX 12 and is currently utilized by Apple's macOS, iOS, iPadOS, and tvOS. WWDC 2017 saw the release of Metal 2 which brought various enhancements and optimizations. Today's announcement of Metal 3 brings more features and improvements still, and Apple Senior Director of GPU Software Jeremy Sandmel took the stage today to demonstrate some of these new features.
And that's when things got interesting. (The keynote video presented herein is cued up to the moment in question.)
The first first new feature of Metal 3 that Jeremy pointed to is MetalFX Upscaling which, it was revealed, is as a scaling technology akin to Nvidia's DLSS and AMD's FidelityFX Super Resolution (both of which are supported by the PC version of No Man's Sky). While he began to speak, saying the following (quote below) about this feature, the keynote stream highlighted a MacBook Pro laptop running a game that looked so familiar to me that, in this completely unexpected context, I had trouble recognizing it.
We continue to improve Metal. It's the software that powers hardware accelerated graphics on all our platforms, and now Metal 3 brings new features that will unleash the full potential of Apple Silicon for years to come.

Gaming at maximum resolution and quality looks awesome. And, to help game developers increase the performance of realistic and immersive graphics, we're introducing MetalFX Upscaling which enables developers to render rich, visually complex scenes even faster. It works by rendering smaller, less compute intensive frames and then applies high quality spacial upscaling and temporal antialiasing — and it's so cool.

No Man's Sky, coming to Mac later this year, will be one of the first games to use MetalFX Upscaling. The framerate increases give you that responsive feel — and it looks beautiful.
There was … a Traveller … jetpacking up the hill of … a paradise planet… It took a few moments for my mind to take in what I was seeing, and it was at about that time that he stated that No Man's Sky would be coming to the Mac later this year and that it will be one of the first games to utilize Apple's new upscaling technology.
This is amazing news of which no one had heard even a hint. Hello Games' front man Sean Murray didn't even tweet a teasing emoji leading up to it. This came as a complete surprise to the entire No Man's Sky community.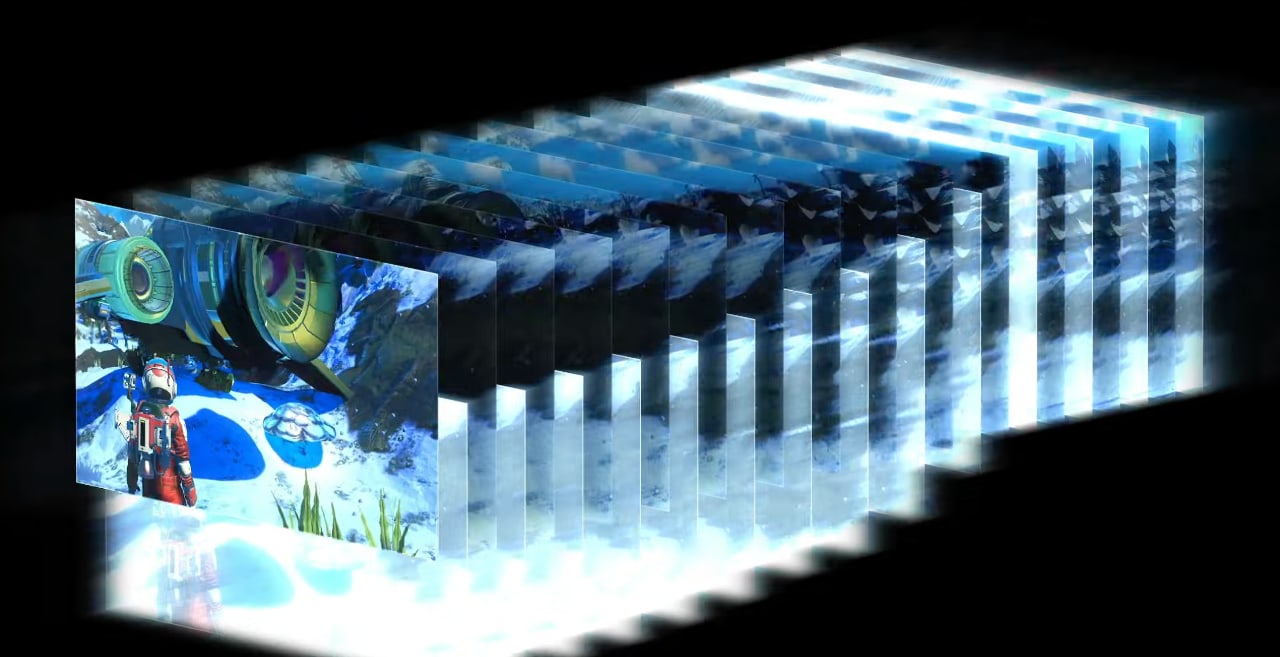 And, what comes as a further surprise to those who watched the keynote is Apple's announcement, in their own press release, that No Man's Sky will also be coming to the iPad later this year. Nowhere during the keynote video was an iPadOS port of the game mentioned, which is a little surprising considering that in 2021, the iPad generated over 90% the revenue of the Mac.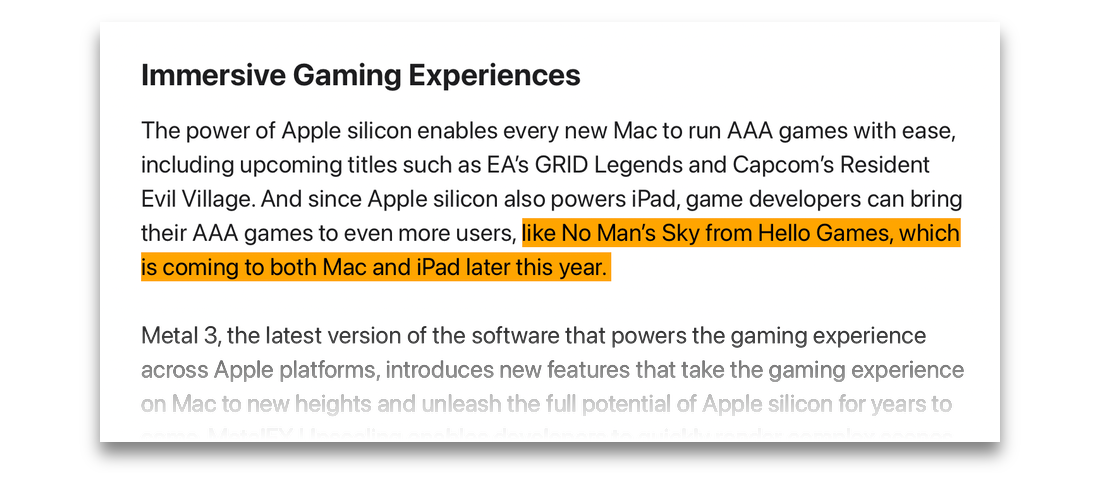 No Mans's Sky for the Mac will require a system running macOS Ventura with hardware that supports the Metal 3 API. On the iPad, the game will require a device running iPadOS 16. All iPads use Apple's own ARM-based "Apple Silicon" processors, and the M1 is basically a scaled-up version of Apple's high-performance A14 Bionic SoC used in recent iPads and iPhones. However, iPad's utilizing the M1 will have, in their base configuration, twice the shared system memory — at least 8GB of RAM — of those based on earlier Ax processors, as can be seen (along with benchmark figures) in the iOS device specifications chart. As such, it's not perfectly clear as to just which iPad models will support No Man's Sky. Let's remember, though, that a Nintendo Switch port of the game is on the way, and that platform offers only 4GB of shared system RAM. (I made some performance speculations about No Man's Sky on the Switch in a recent blog post, for those interested, and followed with the same regarding the imminent Steam Deck release.) Both macOS Ventura and iPadOS 16 will be released this fall.
The iPad is a multitouch device with no physical controls, so it's an interesting exercise to envision what sort of control system Hello Games will put in place for the device's touchscreen / accelerometer input system. And, while the iPad has supported pairing with PS5 DualSense and Xbox Series X controllers since iPadOS 14.5 back in 2021, another interesting bit of news out of this WWDC is iPadOS 16's ability to pair with Nintendo Switch Joy-Cons and Pro Controller. Given the norms of Apple's App Store ecosystem, No Man's Sky for iPad will not require external controllers.
As to how the Apple Silicon Macs will perform running No Man's Sky, I have posted a simple benchmark comparison that shows the gaming PC that I built back in 2016 to play No Man's Sky as compared to the M1 Mac that I also own, a 2020 MacBook Air that was one of the first Macs released with Apple Silicon. As can be seen in the table below showing specs and Geekbench 5 performance numbers, the Mac significantly outclasses my PC in CPU power, while its graphics performance is outshined by the $750 Nvidia GTX-1080Ti slotted into the PC; the 1080Ti delivers a little over 3x the performance of the M1's integrated GPU while also offering 11GB of dedicated video RAM.
| | | |
| --- | --- | --- |
| | Skylake PC (Win 10) | MacBook Air M1 (2020) |
| CPU | Intel i7-6700K (4.4GHz boost) | Apple M1 (3.2GHz) |
| Cores | 4 cores (8 threads) | 4 performance / 4 efficiency |
| RAM | 32GB system, 11GB video | 16GB shared |
| CPU Single-core | 1242 | 1740 |
| CPU Multi-core | 5089 | 7663 |
| GPU | GTX-1080Ti | Apple M1 |
| GPU Compute | 66260 | 18662 |
The Windows 10 PC in question runs No Man's Sky at a resolution of 2560×1440 with all settings on Ultra with a framerate generally between 70 and 95. There are dips below and spikes above, here and there. In my estimation — especially with Apple's MetalFX AI-assisted upscaling (and the M1 has notable machine learning hardware) — this MacBook Air will play No Man's Sky rather well, if not at the same performance level as the PC in question. The existing, more powerful Apple M1 Pro, Max, and Ultra Macs, such as certain MacBook Pro models and the high end Mac Studio, should be able to play the game with much better performance.
The newly-announced M2 processor reportedly features an 18% faster CPU, 35% more powerful GPU, and a 40% faster Neural Engine compared to the M1. A top-end Mac Pro based on an iteration of the M2 (Pro, Max, Ultra or some such) is forthcoming and, looking at the specs of the "lower-end" Mac Studio, it's likely that it will be one of the best platforms upon which to enjoy No Man's Sky (though it won't be cheap).
Hello Games has been busy. Twenty one major (free) updates to No Man's Sky since its launch in 2016 and it's set to land on four new platforms this year: Nintendo Switch, Steam Deck, Mac, and iPad. Strong work, guys.