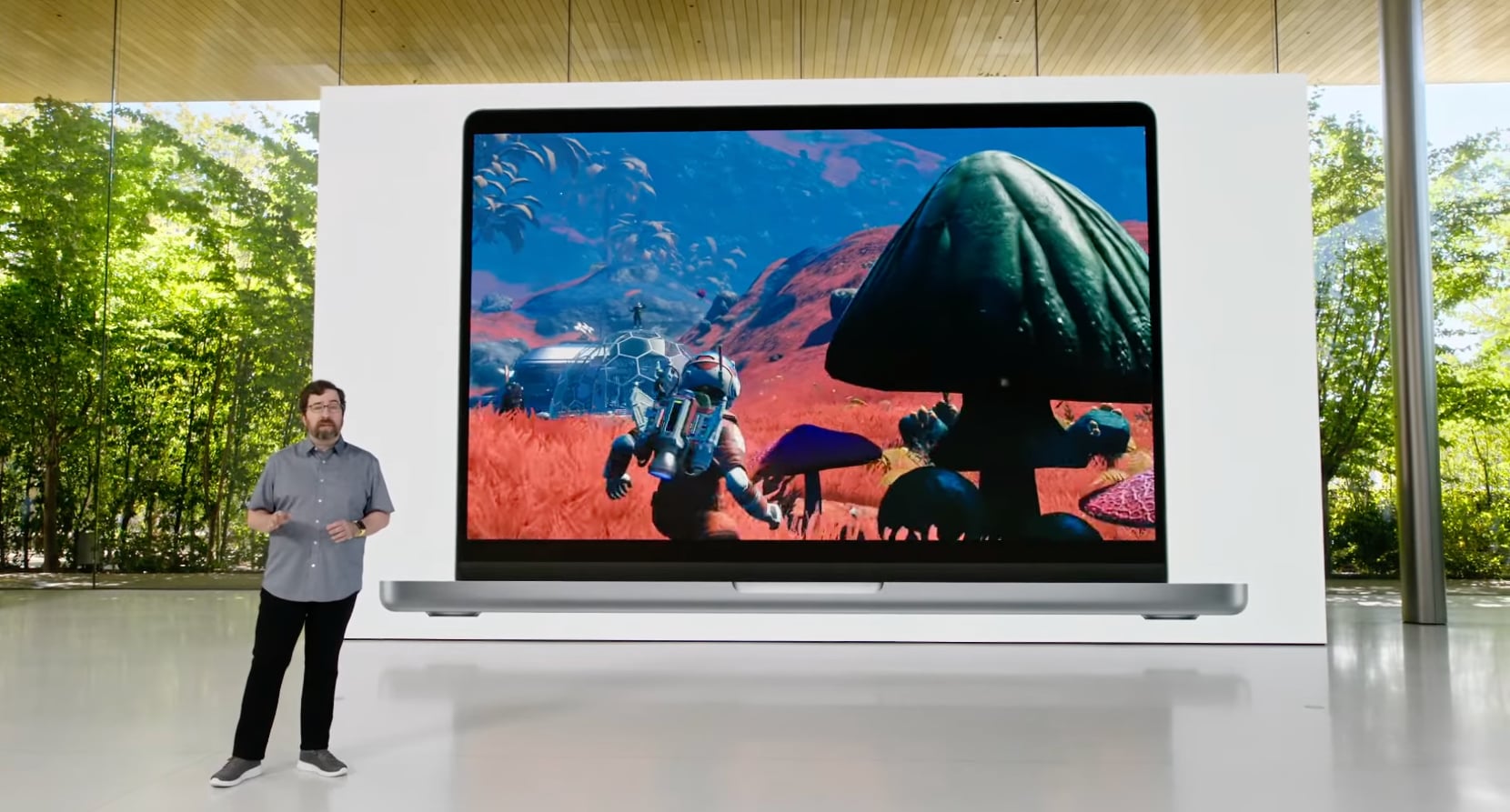 A Tweet of Two Apples: "No Man's Sky" to Land on Mac and Apple AR/VR Headset
When something new is about to land in the world of No Man's Sky, Hello Games' chief Sean Murray, tweets a teaser emoji to start people speculating wildly. On Monday morning he posted a simple red apple emoji, which started the hype-train rolling and then several hours later, followed with another tweet — this time a green apple emoji, which switched the train into overdrive. Given that I have been keeping my eyes wide open for any more news of the long-known, impending Mac port of No Man's Sky, I am quite certain that this is Sean's indication that the Mac version of NMS is imminent. And the timing makes perfect sense, what with Apple's yearly World Wide Developer Conference (WWDC) being set to kick off with Monday's (June 5th) keynote event.
A year ago, at WWDC 2022, Apple highlighted the coming Mac port of the game as a platform utilizing it's new Metal 3 3D API, which offers close-to-the-metal performance, along with a feature known as MetalFX Scaling which is something of a mix between AMD's FSR (FidelityFX Super Resolution) and Nvidia's DLSS. Apple featured No Man's Sky as a sort of poster child for this tech during that keynote. They indicated that the game would be landing by year's end (which it didn't) and later that day in a press release indicated that not only a Mac version but also an iPad version of the game was forthcoming.
At 2022's end, No Man's Sky had not landed on any Apple hardware, though Apple did again shine the spotlight on No Man's Sky in their January M2 Silicon event. Some speculated that Hello Games decided to coincide the release of the Mac version with the PS5 update to support the new PSVR2 in February, but that didn't happen either, though the No Man's Sky Fractal (v4.1) update that brought said support also delivered a nice array of other things for players, including the Utopia Expedition.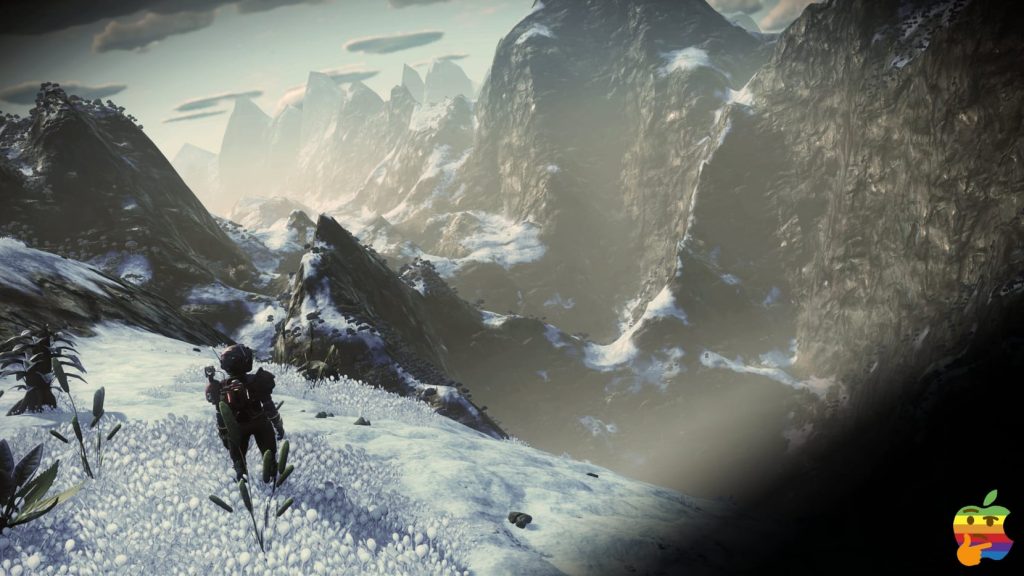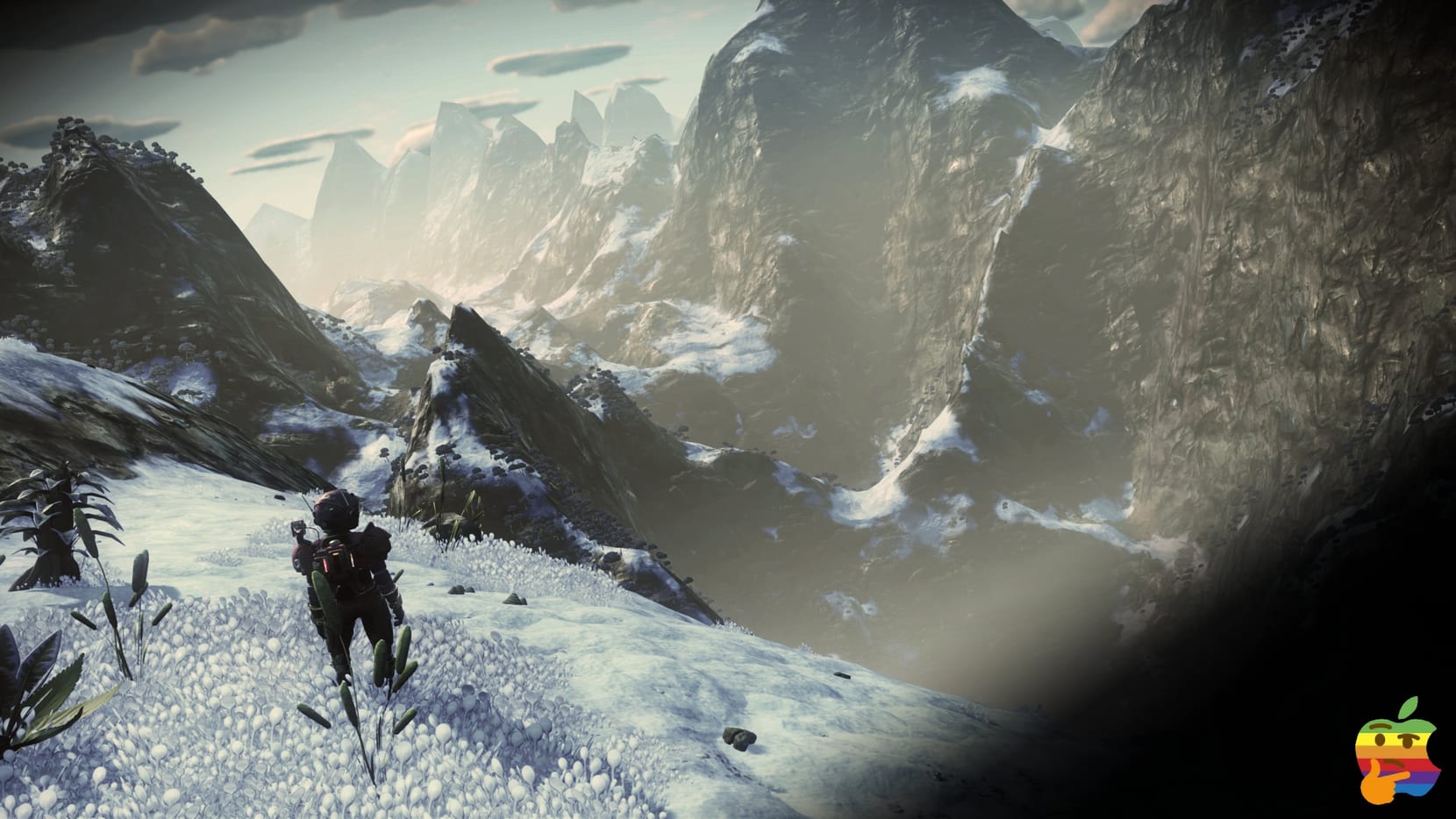 Interestingly, on May 5th a new development branch of No Man's Sky appeared on SteamDB (for the first time ever) named "bejryy". On the NMS Discord, it was soon discovered that a Caesar cypher decodes this string to "Orwell." The original Macintosh was announced in January 1984 by way of the highly famous "1984 commercial," depicting the Orwellian dystopia presented in the book 1984. It seems likely this branch is or pertains to the imminent Mac release.
Now, one of the main expected announcements out of WWDC 2023 is Apple's long-rumored AR/VR headset (possibly to be called the "Reality Pro"), which the company is taking very seriously. It is rumored to be a standalone unit (that can also connect to a Mac and serve as its display) which will feature not one but two Apple M2 SoCs, which would give it the considerable computing and graphics power needed to drive its expected two 4K micro-OLED displays (at up to 3,000 pixels per inch) to deliver an 8K headset gaming experience. The headset is reportedly the most complicated product that the Cupertino-based giant has ever engineered.
…