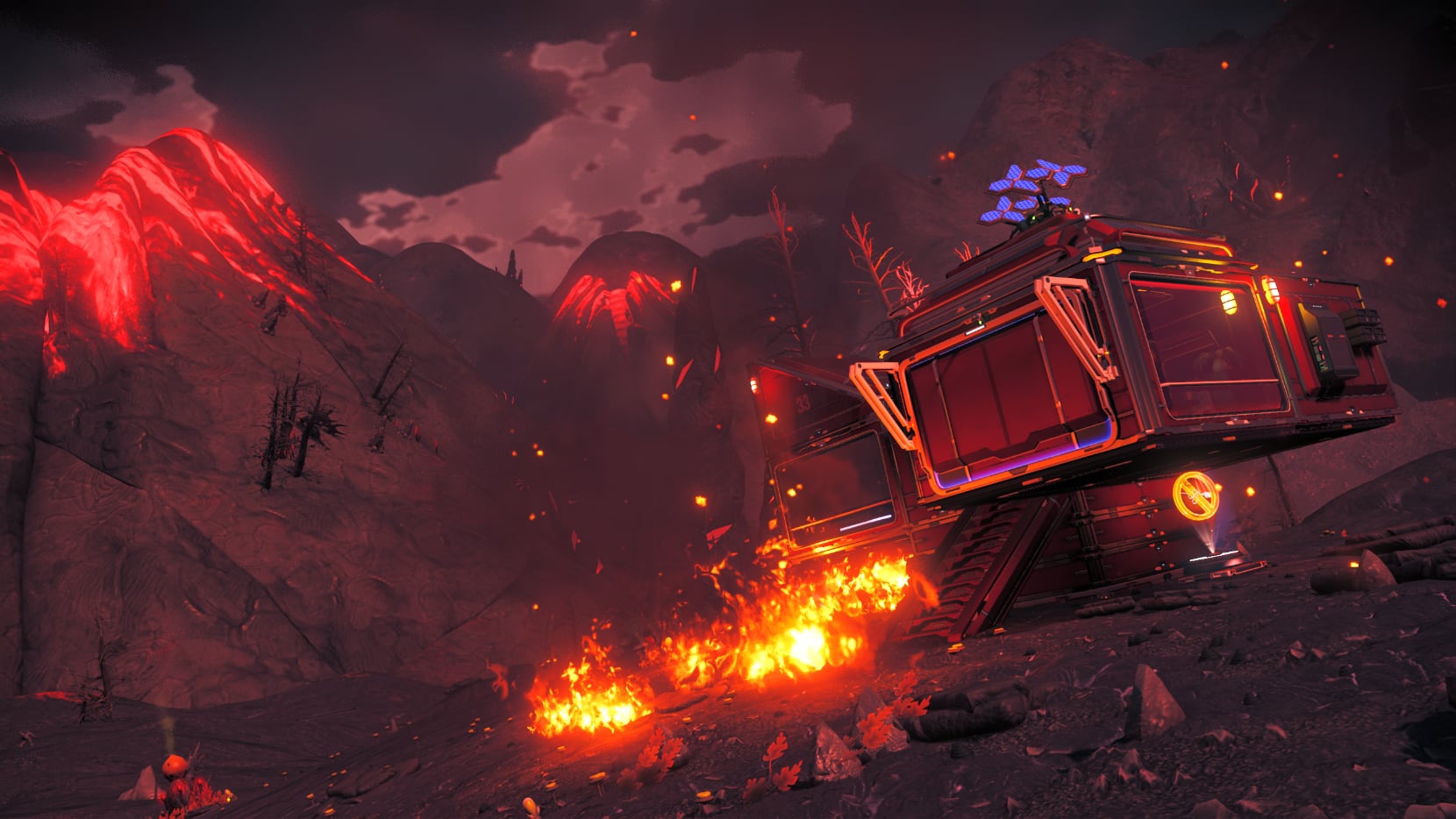 "Hell's Front Porch" : No Man's Sky "Tiny Home" Base IX – in Origins
The update of the year, No Man's Sky Origins 3.0, has landed and we've finally gotten a healthy helping of what many of us were hoping for: improved variation. I a have a lot to say about this update as a whole, and intend to do so in posts soon to come, but early in my exploration of the game's new universe I discovered the most inhospitable hellscape of a planet I have ever encountered in 2,700 hours in the game. It is an "Erupting Planet" with frenzied Sentinels and "Colossal Firestorms" that I was quick to experience upon landing, after my suit AI warned me of an approaching "Wall of Flame." It is a terrible place.

I was in love.
Where better a place for another cozy little "Tiny Home" base (my ninth, in fact)? So, I began scouting out locations from the air, when finally I found the place — a spot near the wall of a sooty canyon at the base of three active volcanoes, with sparse flame-ravaged trees bespeckling the dark lava rock surface. There I built a metal base, raised on a pedestal to avoid the frequent flame spurts that characterize the world, with water and fuel storage tanks (obviously) situated on the safety of the roof. (At least there are no R.O.U.S.es — well, actually…)
The base is situated in the Eissentam galaxy in Normal mode on PC (Steam). I didn't expect my first post since Origins launched to be another base build post, but the situation was too perfect. More from me on Origins soon, and I hope you enjoyed a look at this little patch of paradise. Stop in for a visit…if you're up for it.