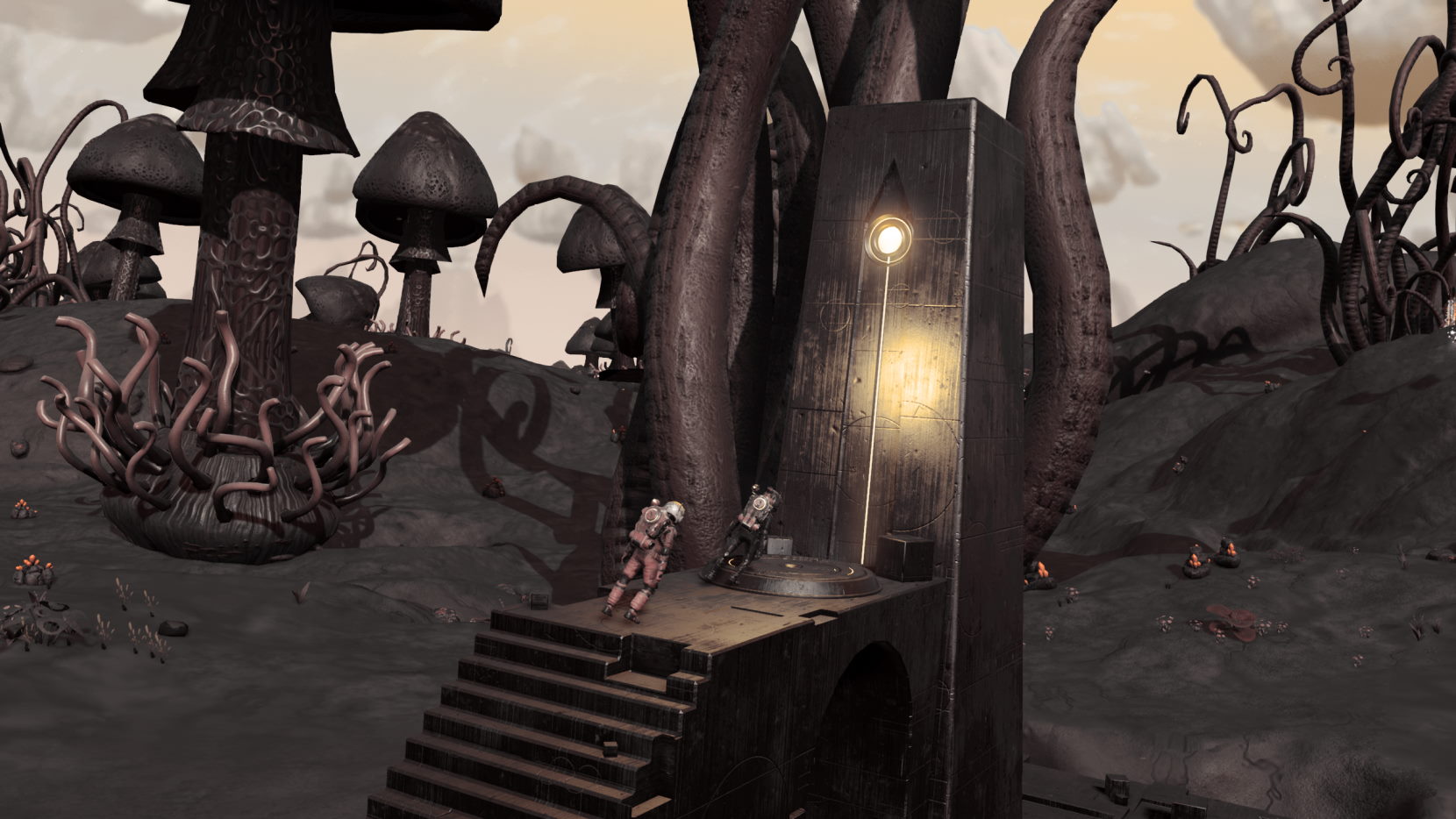 Community Event (Sept. 18) – Or Where Not To Park a Derelict Freighter
I don't post about every weekend community event, but this past weekend's was so out of hand that I thought I would share a video.
As I emerged from the portal on the event world, I found myself in the middle of a lot of action, with boltcaster rounds whizzing all about. Sunday, it seems, was a busy day on the event world.
Player bases peppered the planet's surface, and after making my way to the Anomalous Disturbance to find out what was needed to quell the disturbance (Albumen Perls), I explored several. Among them was a large canon-shaped base that I investigated, failing to realize that it was actually capable of firing players far above the surface and into space. I learned this after-the-fact from a video by Jason Plays who demonstrated The Cosmic Cannon, as created earlier on a different planet by player Commander Keen, who apparently constructed it on the community event planet as well to give folks something rather unique to play with (portal coordinates to the original location can be found in the video).
After visiting several other bases and gathering Albumen Eggs, I headed back towards the site of the Anomalous Disturbance, noticing a massive freighter half-embedded in the ground. It was not there moments earlier. As I approached the landing pad of a large base next to the Disturbance, I noticed the landing rings were set at an angle. This observation betokened what was to come when I stepped out of my ship and onto the pad. I was — tilted. Leaning. I could walk, but as if in a stupor of some sort, with controls skewed along with my orientation with respect to the ground. I then noticed my jetpack had been disabled. And that's when I realized just what was going on.
Someone managed to glitch a derelict freighter (which arrived with the Desolation update) into the event planet and in close enough proximity to the event site that "gravity" was obeying the floor angle of the freighter and jetpacks were disabled, as they are in a derelict freighter, because the game thought I was inside the freighter. It was quite difficult negotiating the base where I landed in order to get to a clearing where I could summon my ship, which was the only way I could think to get out of that bind. And, indeed, once I lifted off, things were back to normal.
I love the creative player bases and various other clever player creations on community event worlds, but this one seemed to actually have put players at risk of having to restore from their older save, which could be costly to players that hadn't made a manual save in a while (or who don't backup their saves frequently). And, as can be seen in the embedded video, I wasn't the only one affected. It wasn't such a fun experience.
At any rate, I quelled the anomaly and it was revealed that Ariadne is no murderer — an unknown imposter has taken on his/her appearance and stands in their place…