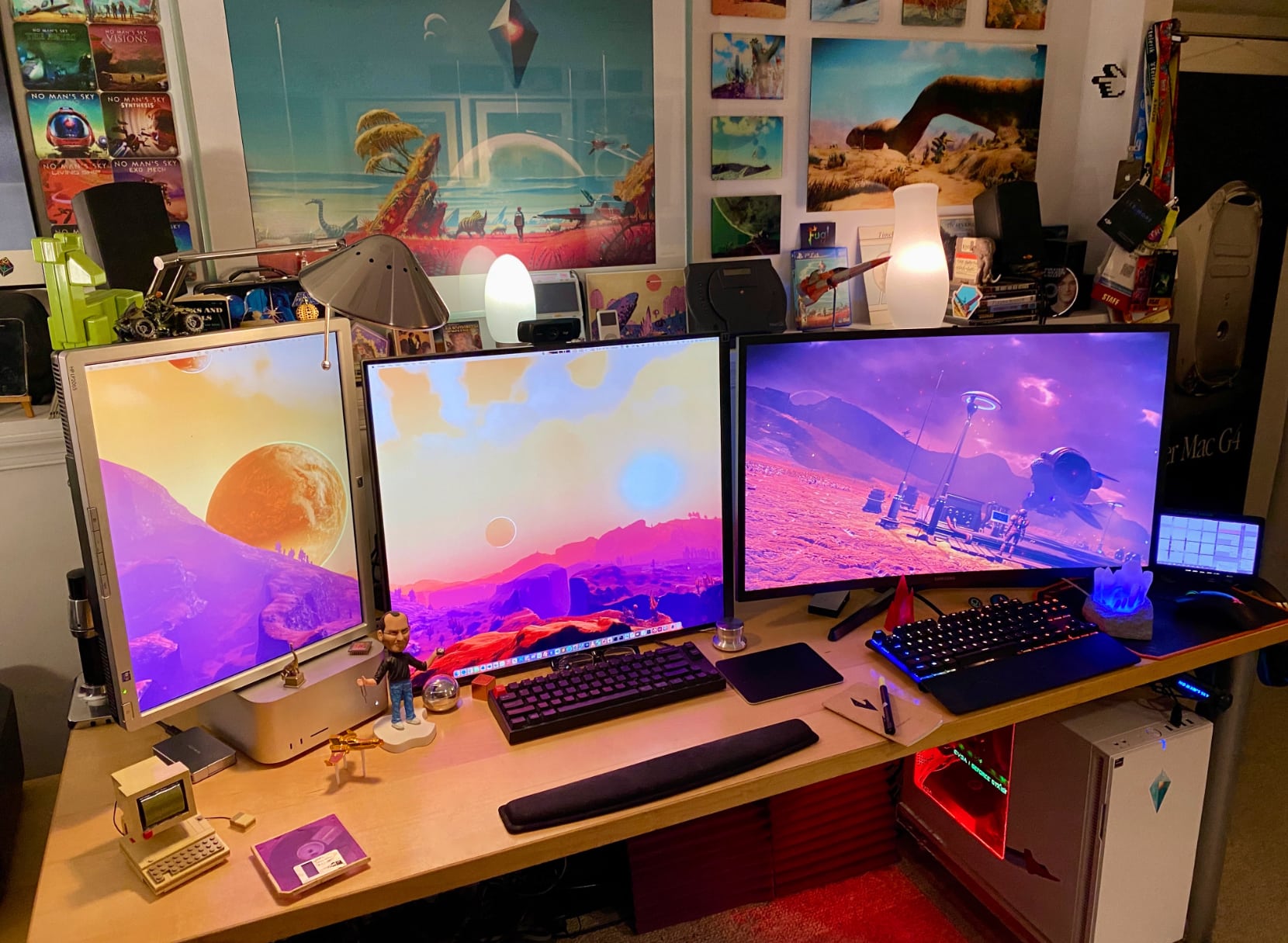 Upgrading the Gaming PC
Upgrading the Gaming PC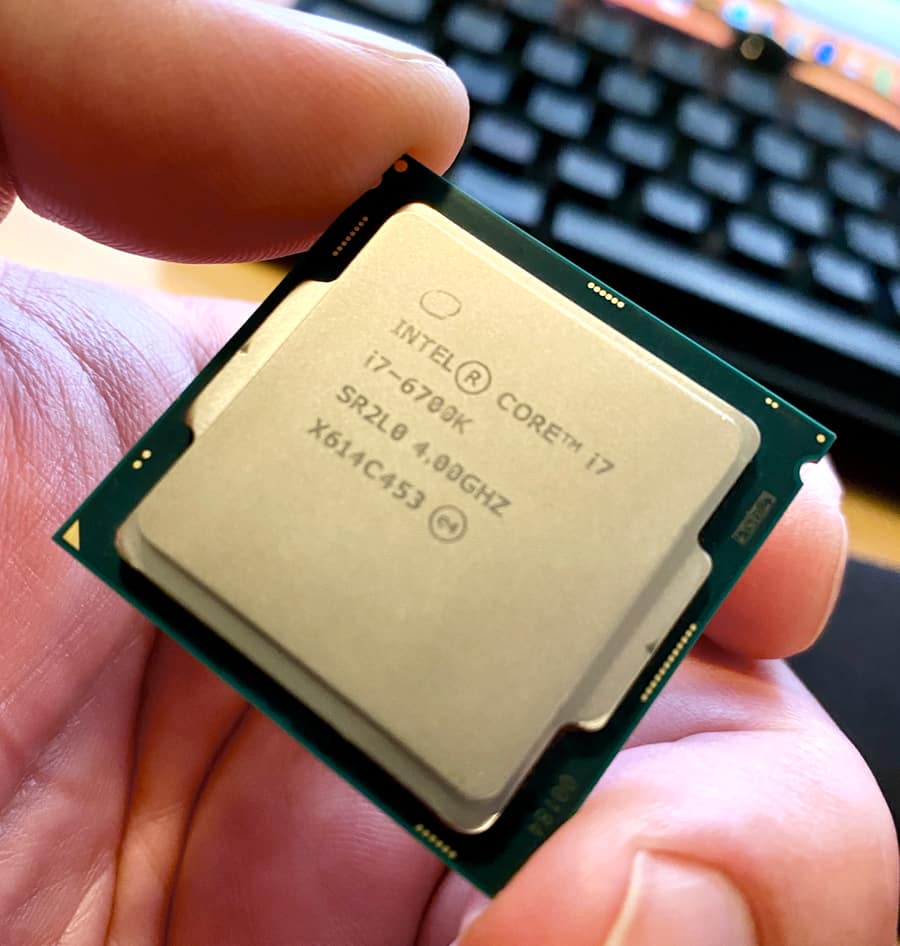 Back on launch-day in August 2016 I began playing No Man's Sky on the PS4. I fell so wildly in love with the game that a few weeks later I ordered parts and put together a gaming PC so that I could play No Man's Sky at 60+ FPS with higher resolution options and also have the ability to adjust the player's field of view (which one could not, on console back then). I detailed the system build in a post from way-back-when, but in a nutshell, the system consisted of:
Intel i7-6700K (4 core, 8 thread) @ 4GHz (4.2GHz boost)
Gigabyte Nvidia GTX-1080 Xtreme Gaming
16GB Corsair DDR4 RAM-3200
32-inch Samsung CF391 curved 60Hz 1920×1080 (16:9) LCD
As I'd hoped, this setup ran the game incredibly well. I started using it back in "the early days" and I played on this PC a little over six years, for what's now 3,800 hours in the game, all settings on "Ultra." In that time, I doubled the system RAM and in order to move up from 1080p to 1440p, the GPU and display were upgraded to:
EVGA FTW3 GTX-1080Ti (11GB, factory overclocked)
Samsung C32HG70 curved 32-inch 144Hz 2560×1440 (16:9) LCD
This worked out very well for quite a while but…those pesky (frequent and free) updates Hello Games keeps releasing began to take a toll on performance. (At the time of this post, HG has released 161 updates, 30 of them major.) As certain updates brought richer worlds with more details — Origins and Next Generation in particular — I noticed that framerates started to dip here and there. And, whereas a few years ago on my Freesync-linked GPU and display I had been mostly in the 80-95 fps range with very rarely a dip below 60 fps, recently when walking on worlds with particularly dense ground features, I began to see brief dips into the low 40s and occasional stuttering, even when framerates were up in the 70s and 80s. I have a little 7-inch secondary display constantly running on the PC, displaying system monitoring information from the app HWiNFO64, and I noted that the GPU was often not fully loaded, which showed me that I was CPU limited in terms of performance; the Skylake CPU was not able to keep the GPU fully fed. And so, I decided to finally upgrade the PC.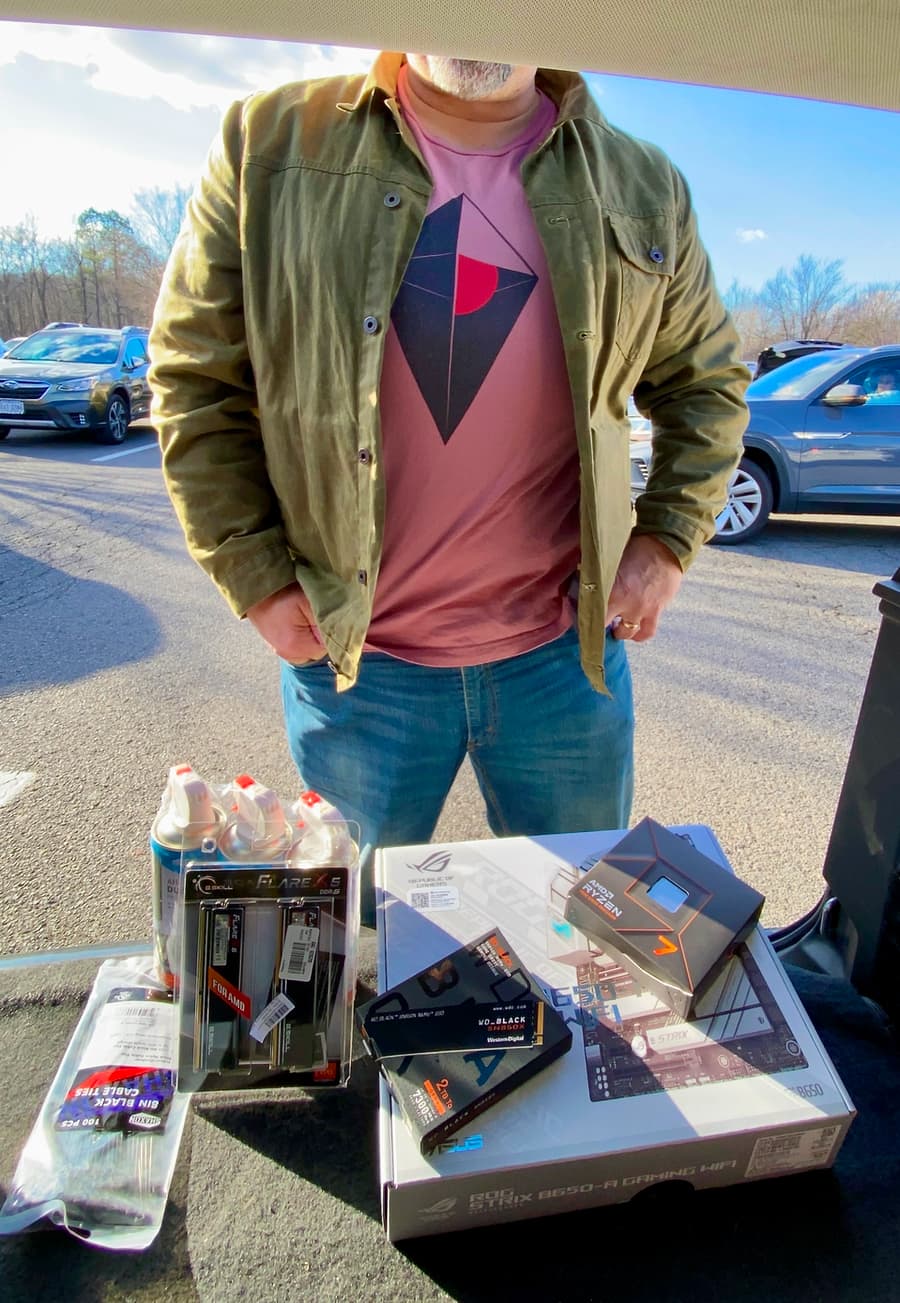 After bringing myself up to speed on the PC CPU landscape out there, and acknowledging that I don't use this Windows PC for anything but gaming (the performance / efficiency cores proposition offered by Intel therefore not being of interest to me), I decided to upgrade the CPU to a Ryzen 7 7700X, which also meant upgrading the motherboard and system RAM to the DDR5 required by the Zen 4 architecture. I would also stay with Windows 10 Pro 64-bit. (Incidentally, this is the third AMD-based system I have built. The first was a 5×86 160MHz system from 1996, which I rebuilt not all that long ago, and the second was a K6 225MHz system from 1997.)
I posted on the Ars Technica forums asking for advice on making this upgrade and was given much helpful advice and told that if there were a MicroCenter near me (there was) I could get a number of in-store discounts, including a free 32GB DDR5 RAM kit, among others. And, so, I headed to the Fairfax, VA MicroCenter and purchased the aforementioned CPU along with an ASUS B650-A motherboard, a heatsink/fan combo, and a few other odds and ends. All of that in hand (including the free 32GB of DDR5 RAM), I headed home and opened up the gaming PC, swapping in the new parts for the old, reusing the GTX-1080Ti, the Fractal Design R5 case, the EVGA PSU, the optical drive, and my SATA SSDs. I took advantage of a $60 MicroCenter discount and purchased a WD_BLACK NVMe 2TB SSD for just $20 over the price of the 1TB unit to further increase loading speeds in the game. The core component build-out of this upgraded PC presently looks like:
Ryzen 7 7700X (8 core, 16 thread) @ 4.5GHz (5.4GHz boost)
ASUS B650-A ROG Strix motherboard (with WiFi, Bluetooth)
EVGA FTW3 GTX-1080Ti (11GB, factory overclocked)
32GB G.SKILL DDR5-6000 RAM
WD_BLACK SN850X 2TB NVMe SSD
Noctua NH-D15 CPU cooler
If you have a local MicroCenter — by all means use it.
Here, I will note that the GTX-1080Ti is a GPU that was "too good." Nvidia released it to the market — only shortly — based on AMD's performance claims about their upcoming Vega architecture … that ended up being exaggerated. Real-time raytracing hardware aside (the GTX has none), the GTX-1080Ti with its 11GB of RAM is approximately equal in performance (chart from Maximum PC magazine, June 2022) to the RTX-2070 Super and the RTX-3060 (but with more RAM), especially with older games — I would not trade it for either. The RTX-2080 is only ~10% faster in most cases. It seemed a foolish idea to consider upgrading the GPU at this time, not to mention — I didn't have the budget for it.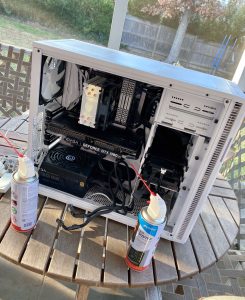 Upon loading up No Man's Sky on this upgraded PC, I saw a world of difference. Compared to the Intel i7-6700K, the Ryzen 7 7700X's single core speed is 1.9x faster, and its multicore speed is 3.2x faster. With all settings still at "Ultra," I am seeing typically 80 or so fps walking around on those complex worlds, with the occasional dip into the low 60s and am locked at 144fps in space. (Incidentally, I also play Microsoft Flight Simulator 2020 on this system and it's as smooth as glass now.) I was, indeed, very CPU limited for my graphics settings and it seems the GTX-1080Ti has quite some life left in it despite being a five year old GPU. Happily, when I do eventually upgrade the GPU, this is a very solid platform upon which to build.
To show how the new hardware handles the current version of the game, I have recorded a time-lapse video of the aforementioned HWiNFO64's system load graphs during a gameplay session. The short video below shows 20-minutes of gameplay running at 2560×1440 with all settings to Ultra, sped up notably. The left half of the screen shows the 16 CPU hardware threads while the right half shows other metrics such as GPU load, memory levels, and temperature readings.
The cost for the parts that went into this upgrade came to just under $800 USD — thanks to MicroCenter. (More photos of both builds are in the full gallery.)
So, my No Man's Sky adventure continues and I share this story to potentially help PC gamers that are seeing performance issues and wondering if the culprit is CPU or GPU. And, I certainly don't want Hello Games to slow down their world detail upgrades. Facing those is a "high class problem," and it's amazing to see so very many updates to a six year old game that keep it in the forefront of 3D visual quality.
Thanks again, Hello Games.