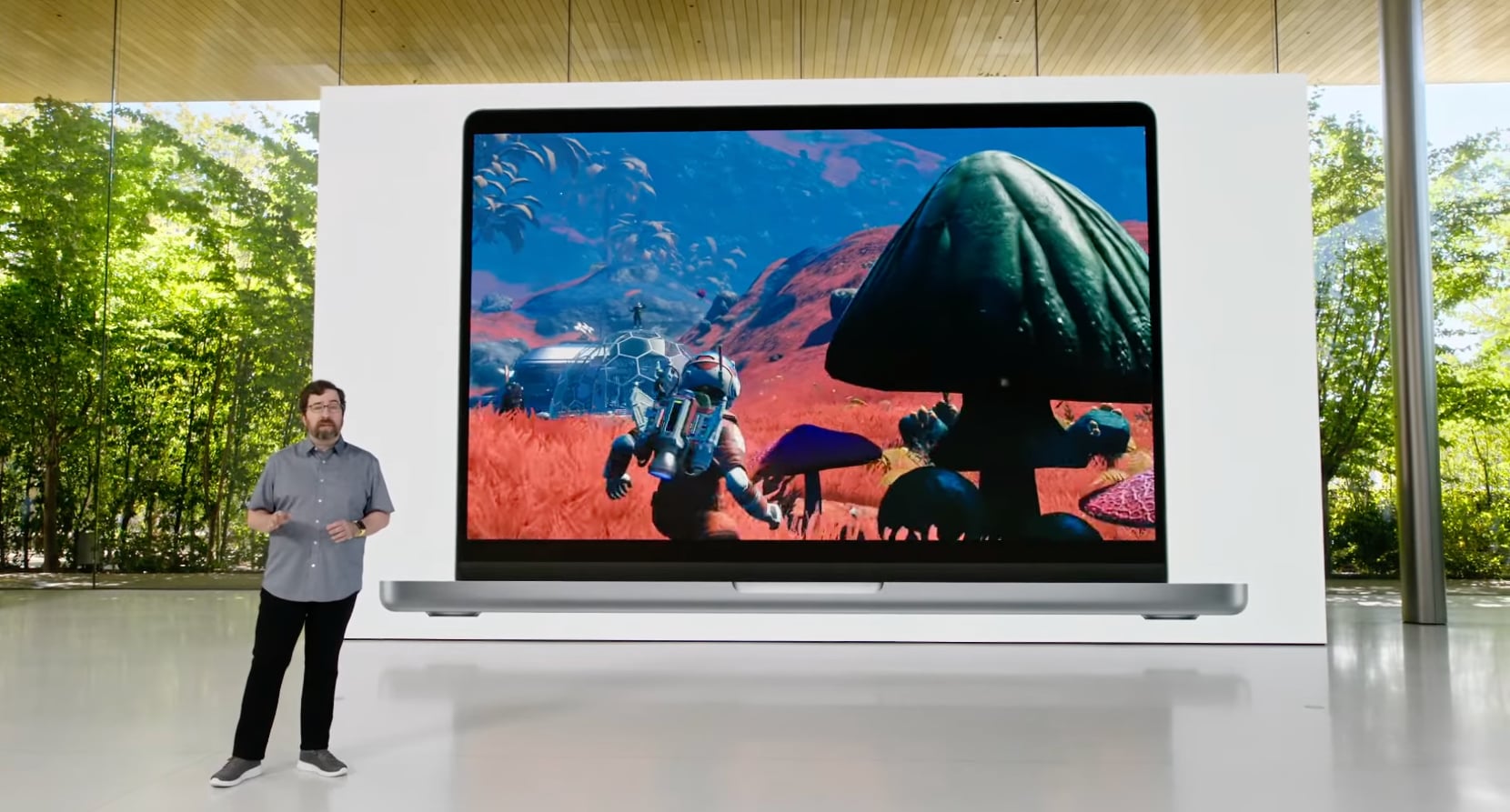 WWDC Surprise: "No Man's Sky" Is Coming to the Mac and iPad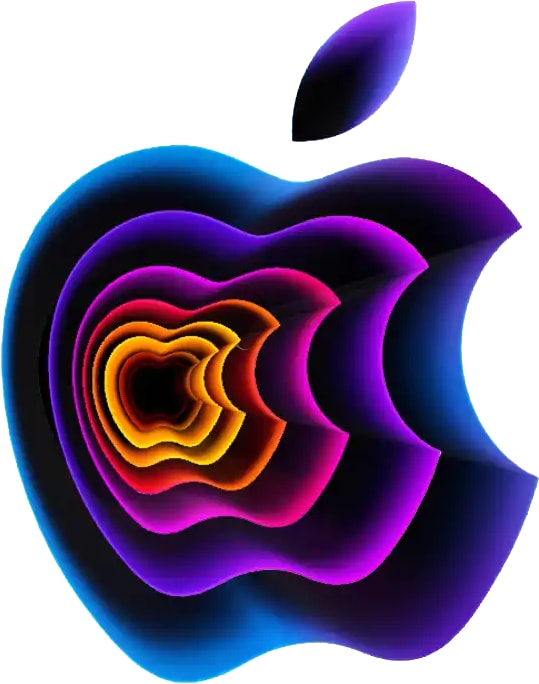 Today, Apple live-streamed the keynote that kicked off its annual World Wide Developers Conference. Occurring every spring, WWDC serves as an opportunity for Apple to announce product updates to consumers, show off new software and OS features that are on the way, and put its latest development tools in the hands of the dev community.
During today's keynote, Apple announced the new M2 processor, successor to the extremely performant / low power Apple M1 that kicked off the Mac's transition from Intel-based processors to Apple Silicon. Apple showcased the M2's performance in the first machines that will be receiving the chip, the MacBook Air and MacBook Pro laptops. The coming, yearly update to the Mac's operating system, called macOS Ventura, was also demonstrated. As is always the case, the new OS brings with it a variety of new technologies that were detailed during the keynote. One of those technologies is Metal 3.
Metal is a low-level, low-overhead hardware-accelerated 3D graphic and compute shader API created by Apple. It debuted in iOS 8 during WWDC 2014 and combines functions similar to OpenGL and OpenCL in a single API. Apple moved away from OpenGL as its core 3D API and created Metal in order to improve performance by allowing low-level access to the system GPU. It is comparable to other APIs such as Vulcan and DirectX 12 and is currently utilized by Apple's macOS, iOS, iPadOS, and tvOS. WWDC 2017 saw the release of Metal 2 which brought various enhancements and optimizations. Today's announcement of Metal 3 brings more features and improvements still, and Apple Senior Director of GPU Software Jeremy Sandmel took the stage today to demonstrate some of these new features.
And that's when things got interesting. (The keynote video presented herein is cued up to the moment in question.)
The first first new feature of Metal 3 that Jeremy pointed to is MetalFX Upscaling which, it was revealed, is as a scaling technology akin to Nvidia's DLSS and AMD's FidelityFX Super Resolution (both of which are supported by the PC version of No Man's Sky). While he began to speak, saying the following (quote below) about this feature, the keynote stream highlighted a MacBook Pro laptop running a game that looked so familiar to me that, in this completely unexpected context, I had trouble recognizing it.
We continue to improve Metal. It's the software that powers hardware accelerated graphics on all our platforms, and now Metal 3 brings new features that will unleash the full potential of Apple Silicon for years to come.

Gaming at maximum resolution and quality looks awesome. And, to help game developers increase the performance of realistic and immersive graphics, we're introducing MetalFX Upscaling which enables developers to render rich, visually complex scenes even faster. It works by rendering smaller, less compute intensive frames and then applies high quality spacial upscaling and temporal antialiasing — and it's so cool.

No Man's Sky, coming to Mac later this year, will be one of the first games to use MetalFX Upscaling. The framerate increases give you that responsive feel — and it looks beautiful.
There was … a Traveller … jetpacking up the hill of … a paradise planet… It took a few moments for my mind to take in what I was seeing, and it was at about that time that he stated that No Man's Sky would be coming to the Mac later this year and that it will be one of the first games to utilize Apple's new upscaling technology.
This is amazing news of which no one had heard even a hint. Hello Games' front man Sean Murray didn't even tweet a teasing emoji leading up to it. This came as a complete surprise to the entire No Man's Sky community.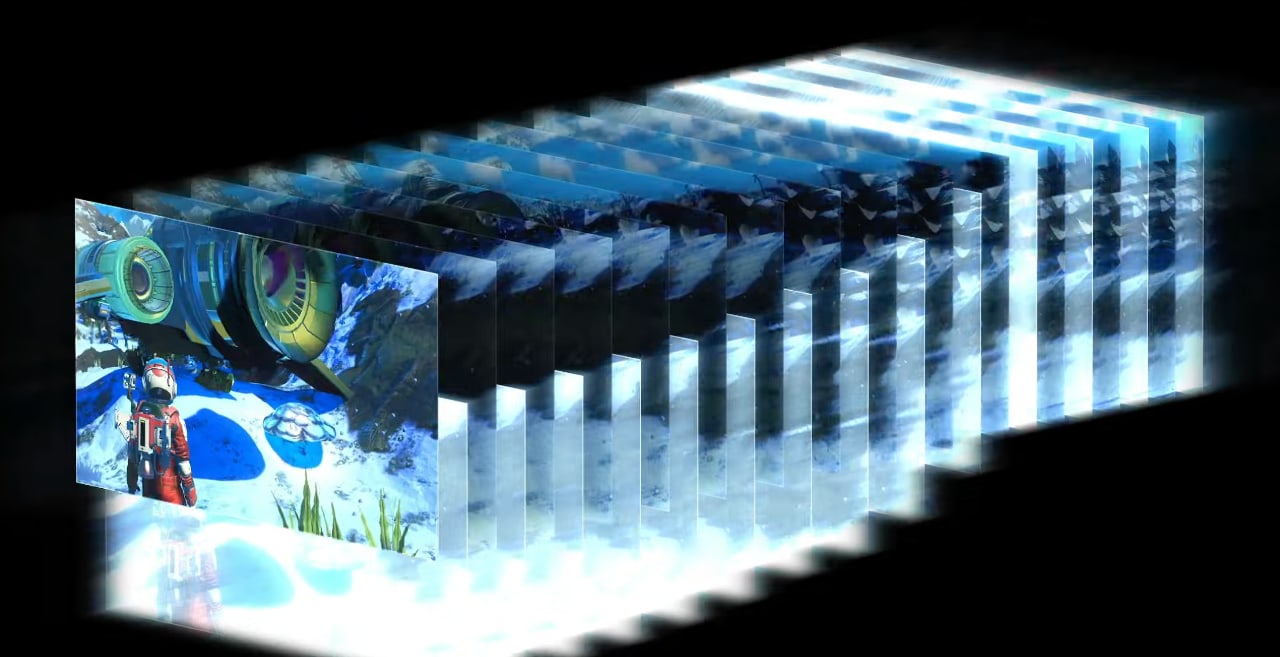 And, what comes as a further surprise to those who watched the keynote is Apple's announcement, in their own press release, that No Man's Sky will also be coming to the iPad later this year. Nowhere during the keynote video was an iPadOS port of the game mentioned, which is a little surprising considering that in 2021, the iPad generated over 90% the revenue of the Mac.
…