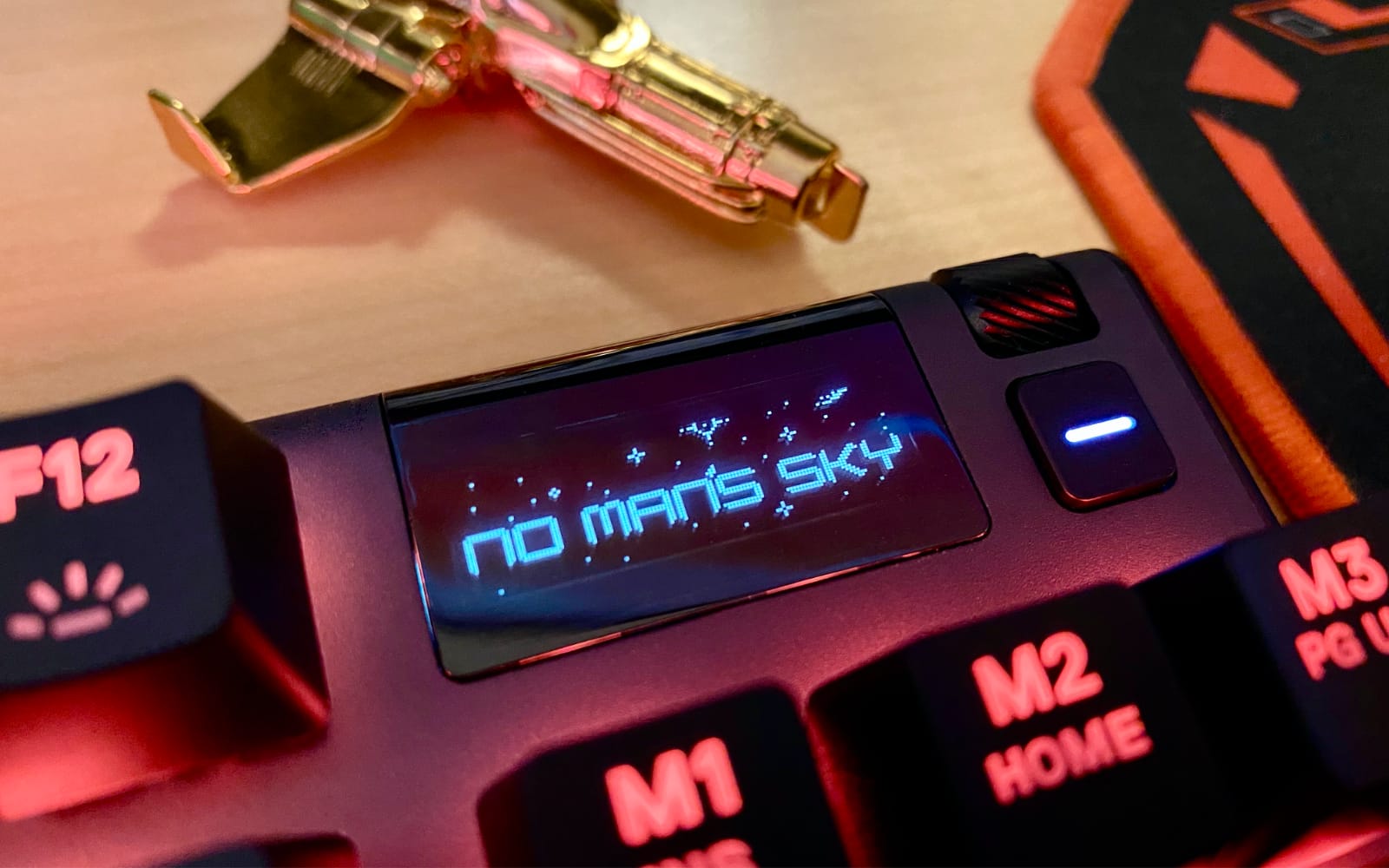 The Keyboard With "No Man's Sky" on Its Mind
The Keyboard With "No Man's Sky" on Its Mind
I started playing No Man's Sky on launch day on the PS4, and a few weeks later I decided to build a gaming PC in order to play at a higher resolution and framerate. Among the parts I ordered for the build was a Corsair keyboard with Cherry MX Red linear keyswitches. Cherry Reds are ideal for gaming, but make any sort of actual typing a rather unpleasant affair. For quite a while I had been wanting to switch over to a board with a somewhat more tactile feel.
The other day, I ran across a reddit post showing a keyboard with an uncommon feature: a small OLED display. The display works in conjunction with driver software to provide status information from supported apps, but it also can be used to display a static image or animated GIF*. The user that made the post is an Elite:Dangerous fan and showed an animated GIF of the wireframe Cobra Mark III ship from the 1984 original Elite on his keyboard display. I quickly realized it would be fun to use that display for some sort of No Man's Sky image or animation. So, I finally replaced the PC's keyboard with a Steelseries Apex 7 TKL board with Brown switches, providing a subtle tactile feel. (I am something of a keyboard hound, actually.)
The new keyboard has quite a nice feel and its little 128×40-pixel OLED display is a fun little feature.
After the board arrived, I sat down and made a little pixel-art No Man's Sky-inspired scrolling GIF and loaded it onto the keyboard. It's definitely fun to glance down from the screen and see my ever-scrolling homage to the game, there on the board's little display. I'll soon put a few other graphics together for the display, in time, to add to what's already out there.
I felt readers might enjoy this little exercise. Download the animated GIF if you're a Traveller with a Steelseries keyboard.

* GIF is pronounced with a soft "g".