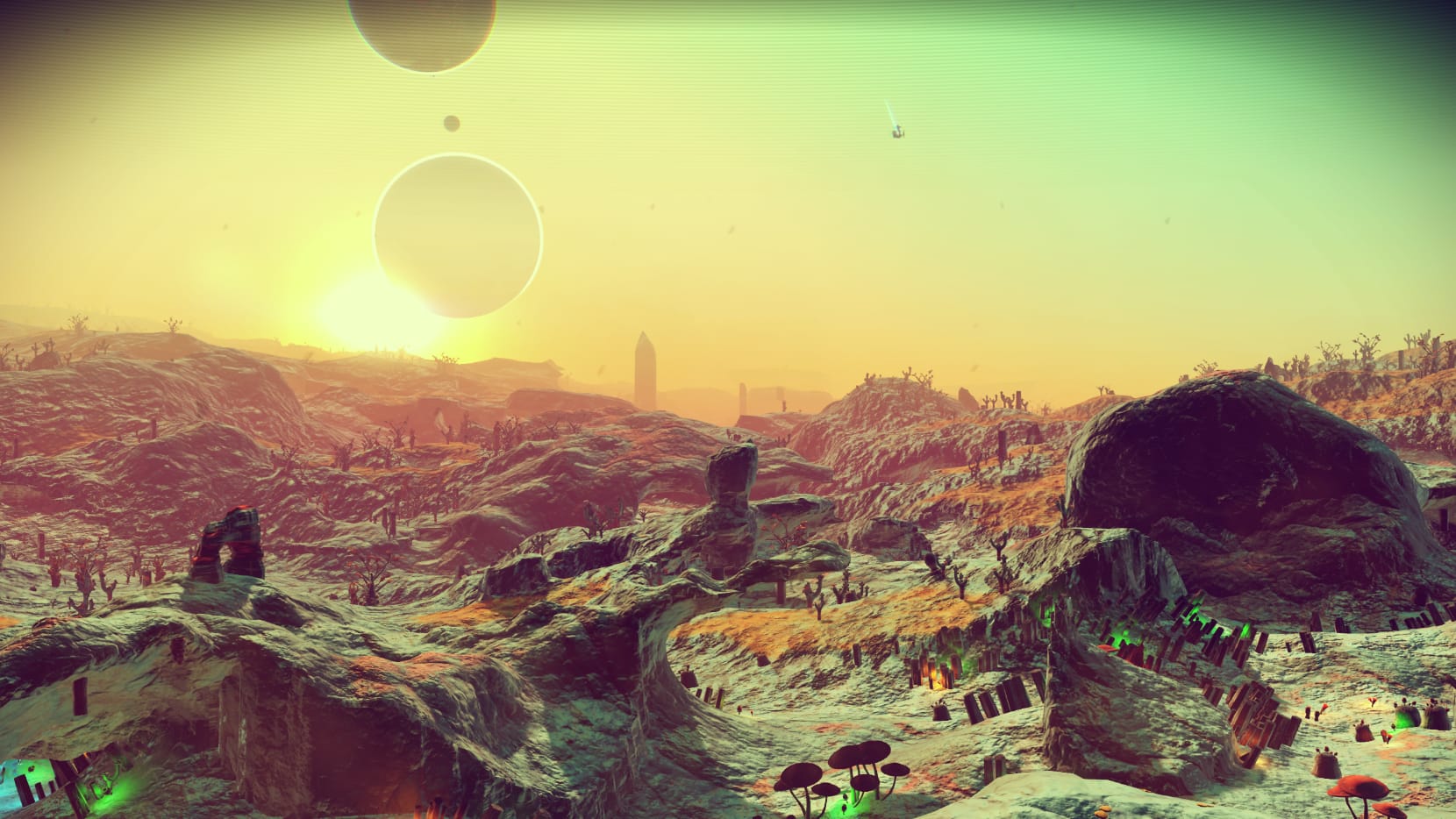 Taking a Stroll Back Through Time: A Long Walk on a Desert Planet
Taking a Stroll Back Through Time: A Long Walk on a Desert Planet
As regular readers of this blog and my NMS-focused followers on Twitter are likely aware, I am currently enjoying No Man's Sky Foundation 1.1 (circa 2016) alongside the current version of the game, which at the time of this writing, is Next Generation. I got this setup on my PC early last year and have had a lot of fun being able to go back and explore the universe of olde, harboring worlds with wilder and more chaotic terrain generation. In a recent session in Foundation, I decided to record my exploration of a mountainous desert world and share it, here, with readers.
Craggy desert worlds of this sort appeal to me, and I could see from high above the surface that it would be enjoyable to explore. After setting down beside a small lake as the sun was setting, I set out on foot to see what I might find. After, perhaps, 10 minutes of walking it occurred to me to start recording my screen as I explored.
The ability to be anywhere on a planet and summon your starship from afar had (happily) not yet been added to the game in the 1.1 release. Several types of Habitable Structures feature landing pads or ship summoning terminals that can be access by way of a Bypass Chip (dropped from the game in NEXT) in order to call your ship to those limited locations. As a driver for my exploration in Foundation, I often land and set out in a certain direction and not stop going forth — no turning back — until I locate such a facility from which I can summon my ship. On this adventure, it took 3 hours and 30 minutes to locate such a building, and it was a glorious little walk.
I recorded and present here the entire trek, which took me through several day/night cycles and showed me sandy planes, shrub-thick hills, placid lakes, towering mountains, deep ravines, enormous stone spires and resource deposits, craggy caverns, and massive islands of stone floating in the air. In order to make the video a more practical vehicle with which to share the diversity I encountered on this world, I have time-lapse compressed most of the video, slowing to normal speed at certain portions I felt were particularly worth seeing. A large part of my exploration involves taking photos of particularly breathtaking vistas, and I have not edited out my doing so, using Foundation's primitive "Photo Mode" (a proper Photo Mode arrived in the next major release, Path Finder 1.2). In fact, nothing has been cut from the video at all, it has just been sped-up.
I hope that a few others out there, seeing this walkabout of mine, will find appreciation in the wild beauty of the early days of No Man's Sky.
Related posts from this blog: